June 14, 2023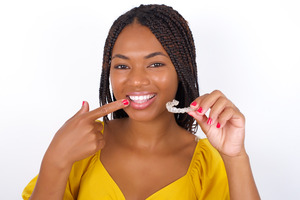 You've long been bothered by crooked or crowded teeth, but with Invisalign, you may be able to correct these orthodontic issues. When's the right time to start the treatment? For many patients, summer provides a good chance to take the first steps. Below are 5 reasons why "schedule my first Invisalign appointment" should be on your to-do list during the coming warmer months.
1. Your Schedule Will Be More Flexible
Many people save their PTO for the summer so they can go on vacation, spend time resting at home, or even just take a few three-day weekends. The more time you have off work, the easier it is to set up visits with your dentist. This is good news because you'll need to see your dentist roughly every six weeks so that they can check on your progress and give you your next set of aligners. Take advantage of the flexibility of summer to simplify the first part of your Invisalign journey.
2. Less Stress Makes It Easier to Adjust to Invisalign
Invisalign is generally more comfortable than traditional braces, but nevertheless, it does put pressure on your teeth. Getting used to your aligners takes time, but fortunately, it often becomes much easier during the summer when you have more opportunities for relaxation. You'll also be able to focus on developing the right habits when it comes to putting your aligners in and taking them out so that you can be sure that they're staying on your teeth as long as they need to.
3. You Can Socialize Freely
People with braces are constantly worried about others staring at their brackets and wires, and that can make it hard to have fun at summer get-togethers. With Invisalign, you can interact with all kinds of people with full confidence; the aligners are made out of transparent material, which means they won't be easily noticed by casual observers.
4. You Can Eat What You Want
What are some of your favorite foods to eat during the summer? Some top picks include corn on the cob, candy apples, cotton candy, ribs, and watermelons. These foods can potentially lead to issues if you wear braces – but for Invisalign patients, they typically won't cause any problems whatsoever. That's because you can simply take your aligners out so that you don't risk breaking or staining them while you're partaking in your summer favorites.
5. You Can Look Forward to Next Year
Invisalign treatments are often completed in about a year (although the exact timeline is different for every patient). Beginning the process now means that your smile will be much straighter by the time next summer arrives, and you can look forward to showing it off to all your friends and loved ones.
About the Author
Dr. Sienna Palmer went to the Ostrow School of Dentistry at the University of Southern California for her dental doctorate. She aims to provide personalized care for all of her patients, be they children or adults. She puts a lot of value on continuing education and is certified in Invisalign. To schedule a consultation with Dr. Palmer at Palm Dentistry in Mission Viejo, visit her website or call (949) 365-0951.
Comments Off

on 5 Reasons to Start Straightening Your Smile with Invisalign This Summer
No Comments
No comments yet.
RSS feed for comments on this post.
Sorry, the comment form is closed at this time.