Dental Implants – Mission Viejo, CA
Modern Solutions for a Lasting Smile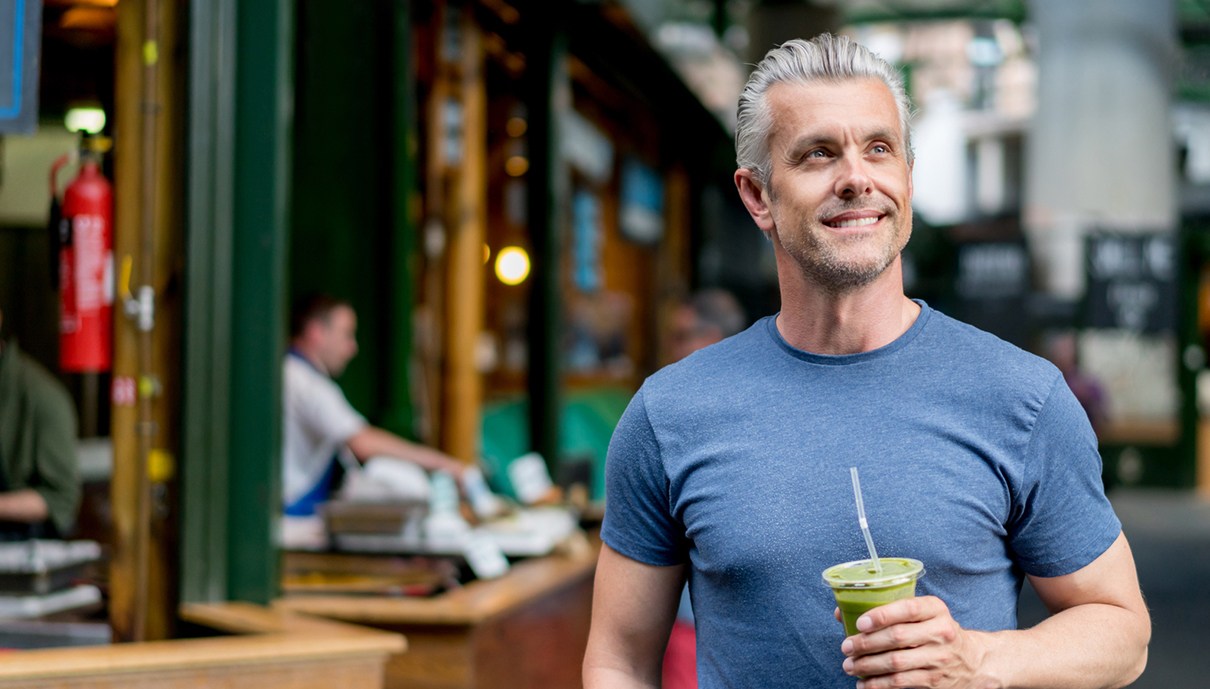 While there are many solutions available to replace teeth, dental implants have proven to be the most effective method to do so in dentistry today. Not only do they accomplish the same goals as traditional tooth replacements, but they actually take your treatment a step further. At Palm Dentistry, Dr. Palmer will examine your smile and develop a treatment plan for dental implants in Mission Viejo, CA that partners you with a dedicated implant specialist. This ensures you get the most comprehensive care possible!
Why Choose Palm Dentistry
for Dental Implants?
Personalized Restorations
That Look Natural
Modern Dental Technology
In-House
Caring Team in a
Family-Friendly Environment
What are
Dental Implants?
A dental implant consists of three main components. This includes the titanium post that integrates with your existing bone tissue, a restoration that attaches to the implant, and the abutment (or connector) that attaches the two components together. This allows you to replace both single teeth and even all the teeth in your smile with proper planning. Even if you're new to dental implants, you can have confidence in your care as they have quickly become the new gold standard for tooth replacement.
Benefits of
Dental Implants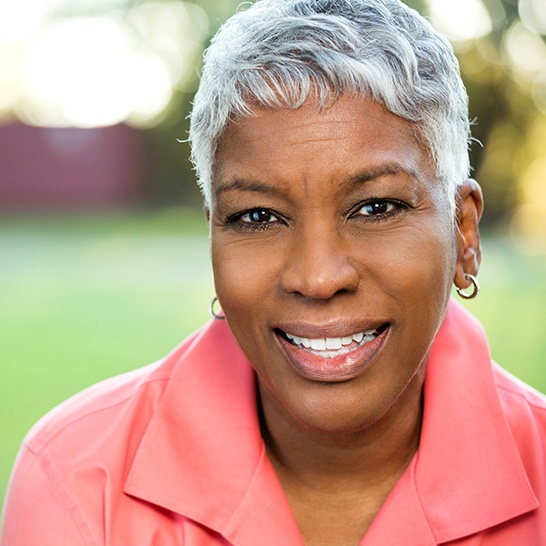 If you want the most reliable tooth replacement possible, dental implants are known to last between 30 years and a lifetime once they've been placed. After the titanium post is placed directly into the jaw, it slowly integrates with the bone tissue. This process, known as osseointegration, is what ensures the implants remains stable for not just years, but decades. It also means your bone can receive the stimulation it needs to keep the jawbone strong.
Furthermore, dental implants hold a success rate as high as 98%, even after having them for 10 years and longer. This should give you more confidence in their use, especially if you have multiple teeth to replace. Since the implants are strong enough to hold dedicated restorations on their own, you also won't need to modify existing teeth just to receive them (which is the case when receiving dental bridges.)
Are Dental Implants Right for You?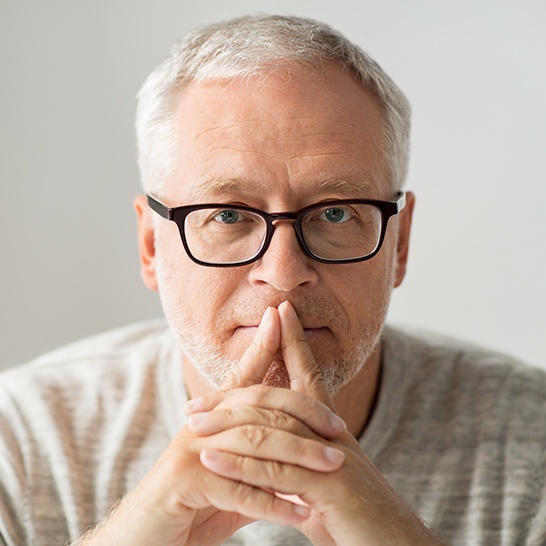 Chances are if you are missing teeth and have healthy bone and gum tissue, you're more than likely eligible to receive dental implants from our dental office. Below, you can learn more about the multiple scenarios in which teeth are often replaced via dental implants to help you better set expectations.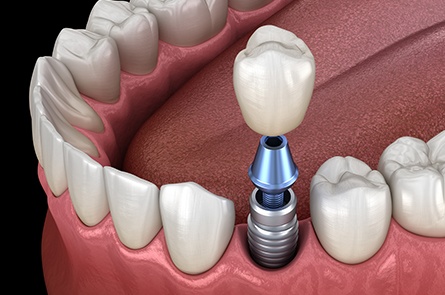 Missing Single Tooth
Replacing a single tooth requires just one dental implant to be placed into the jaw, then given several months to heal and integrate effectively. Once this phase is completed, an abutment can be attached, followed by a dedicated porcelain crown. All restorations used to cover dental implants are made from tooth-colored ceramics for the best possible esthetics.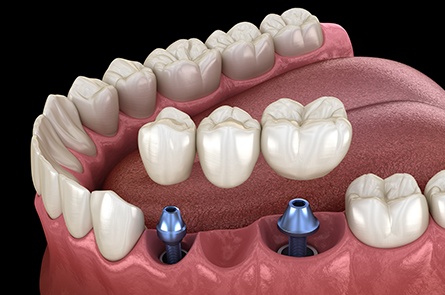 Missing Multiple Teeth
Instead of needing a dental bridge to replace multiple consecutive teeth, you can rely on a pair of dental implants to hold several restorations at a time. Not only can you prevent neighboring teeth from shifting out of place, but you can even maintain the condition of your existing enamel.
Partners with Local Mission Viejo Specialist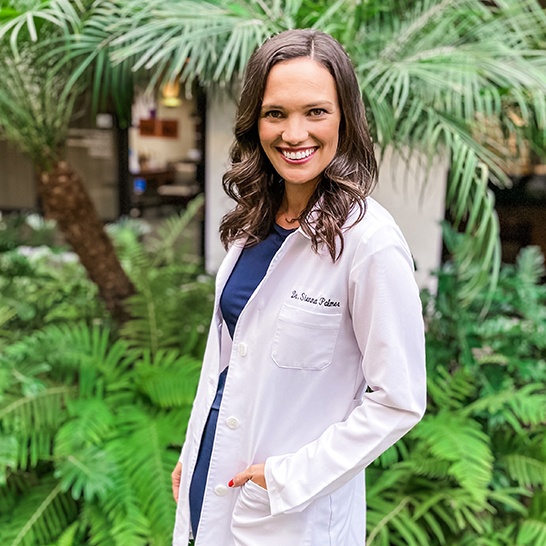 It's very important to us that you receive the best dental care possible, and that includes treatments that require oral surgery like dental implants. That's why we partner you with one of our trusted local implant specialists located right here in Mission Viejo. Once you complete the surgical portion of your care, you'll come back to our dental office to receive your restoration and fulfil follow-up appointments, ensuring your implant is healing as intended.
Understanding the Cost of Dental Implants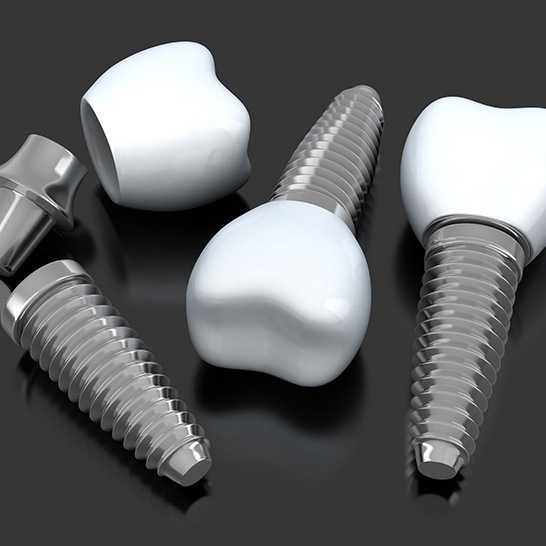 It's worth noting that your dental implant treatment will vary in cost depending on your specific needs. This is because every smile is different and requires a unique treatment plan. Fortunately, we are here to cater to your needs and create a personalized plan that will be best for restoring your smile. During your initial consultation, you can learn exactly what you can expect to pay for your dental implants. In the meantime, here are some things for you to keep in mind.
Preliminary Treatments & Dental Implant Surgery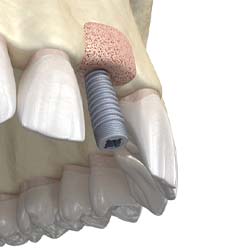 Some people need to have treatments completed before that are able to get dental implants. This includes gum disease therapy, tooth extractions, and bone grafts. These will add to the overall cost of the procedure yet help to ensure the success of your dental implants in the long run.
The cost of dental implant surgery will vary depending on a few different factors, like where the implants are being placed in the jaw and what kind of sedation you need. Since we conveniently provide the entire treatment under one roof, you don't need to worry about working with an outside surgeon and needing to pay separately for treatment.
The Parts of Your Dental Implant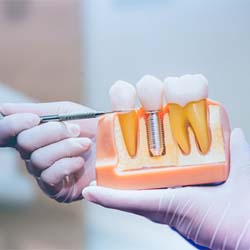 Here are a few of the different factors that contribute to the cost of your dental implants:
Number of dental implants : For one missing tooth, you will likely only need a single implant. However, if you are missing several teeth in a row or a whole arch of teeth, you will need more for optimal support.
Type of restoration : Crowns, bridges, and dentures all have different costs. Most of the time, the smaller the restoration, the lower the cost.
Material: Implants can be made from a couple different materials, like zirconia and titanium. This will affect their overall cost.
How Dental Implants Can Save You Money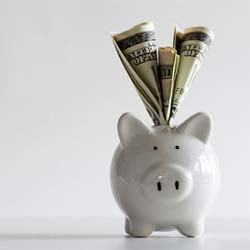 Patients are sometimes tempted to choose other tooth replacement options, like dentures or dental bridges simply because the initial cost is lower. However, you may actually save more in the long run by choosing dental implants instead. You won't need to worry about paying for repairs and replacements every 5 to 10 years, and you don't need to add adhesives or soaking solutions to your shopping list. Implants are also able to prevent oral health issues from developing, like gum disease, cavities, and bone loss. Ultimately, they will prevent the need for pricy dental treatments in the future. By replacing your teeth with implants now, you can save both your dental health and your wallet!
Does My Dental Insurance Cover Dental Implants?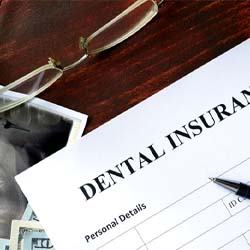 Most of the time, dental insurance doesn't cover dental implants, but there are a few exceptions. Part of the final restoration and preliminary treatments are often covered. Talk to our dental team so we can look over your benefits and help you fully maximize them. Restoring your smile shouldn't mean stressing over finances.
Making Dental Implants Affordable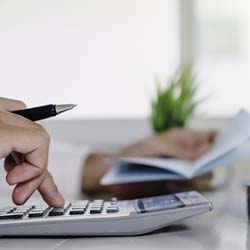 To help ensure that dental care is as accessible as possible for our patients, we offer additional financing through CareCredit. This trusted, third-party financer offers flexible monthly payment plans with little-to-no interest. This way, the cost of your treatment can be split into manageable monthly payments.
To learn more about how much you can expect to pay for your dental implants, contact our office to schedule a consultation. We're eager to help you get your smile back!
The 4 Step Dental
Implant Process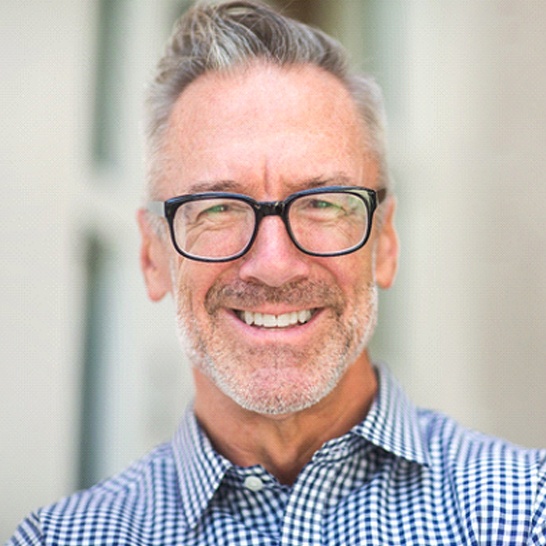 Unlike traditional dentures and bridges, dental implants require a unique, multi-step process that takes several months. This may seem like a long time for a tooth replacement, but the health, lifestyle, and aesthetic advantages that implants bring make them well worth it! At Palm Dentistry, we partner with local implant specialists to ensure that your treatment is successful and lasting. While every patient's treatment process will look slightly different, dental implants always involve four main steps: consultation, surgery, osseointegration, and delivery of the final restoration. Read on to learn more about how dental implants work in Mission Viejo.
Initial Dental Implant Consultation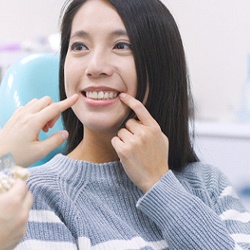 During an initial consultation, Dr. Palmer will carefully review your medical history and examine the condition of your oral health. If necessary, they will recommend preliminary treatments like gum disease therapy, tooth extractions, or bone grafting to ensure the success of your dental implants. After these treatments have been completed, we can move on to planning the rest of the dental implant process. Your personalized treatment plan will include important information like estimated cost and time.
Dental Implant Surgery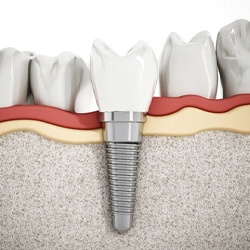 It's very important to us that you receive the best dental care possible, and that includes treatments that require oral surgery like dental implants in Mission Viejo. That's why we partner with one of our trusted local implant specialists located right here in Mission Viejo. They will ensure that you're numb and comfortable before making an incision in the gums, placing the implant, and closing your gums. Then, they will give you a protective cap until you can get your final restoration. Once you complete the surgical portion of your care, you'll come back to our dental office to receive your restoration and fulfil follow-up appointments, ensuring your implant is healing as intended.
Dental Implant Osseointegration & Abutment Placement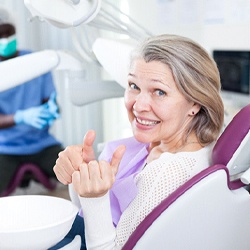 After your surgery with your implant dentist in Mission Viejo, you will begin a healing process known as osseointegration. Implants are made of biocompatible materials that allow them to permanently fuse to the jawbone. While this does take at least 3 to 6 months, it's precisely what allows implants to be so strong, sturdy, functional, and lifelike. Once osseointegration is complete, an abutment (small connector) is placed on top of the implant. During the final weeks that your mouth needs to heal, we will take impressions of the implant and abutment in order to create your custom-made restoration.
Delivery of Dental Implant Restorations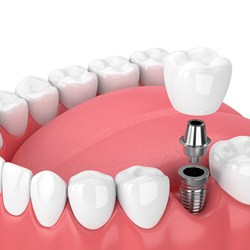 For the final step in the dental implant process, you'll return to our office for your permanent restoration. This can be a dental crown, bridge, or denture depending on the number of teeth that you're missing. We will always ensure that you're happy with your results before finalizing your restoration. We will also check to see that your bite feels comfortable and natural. Once your permanent restoration is in place, all that's left to do is to walk out of our office with a healthy, beautiful, and full set of teeth!