Invisalign – Mission Viejo, CA
Easily Straighten Your Teeth & Improve Your Smile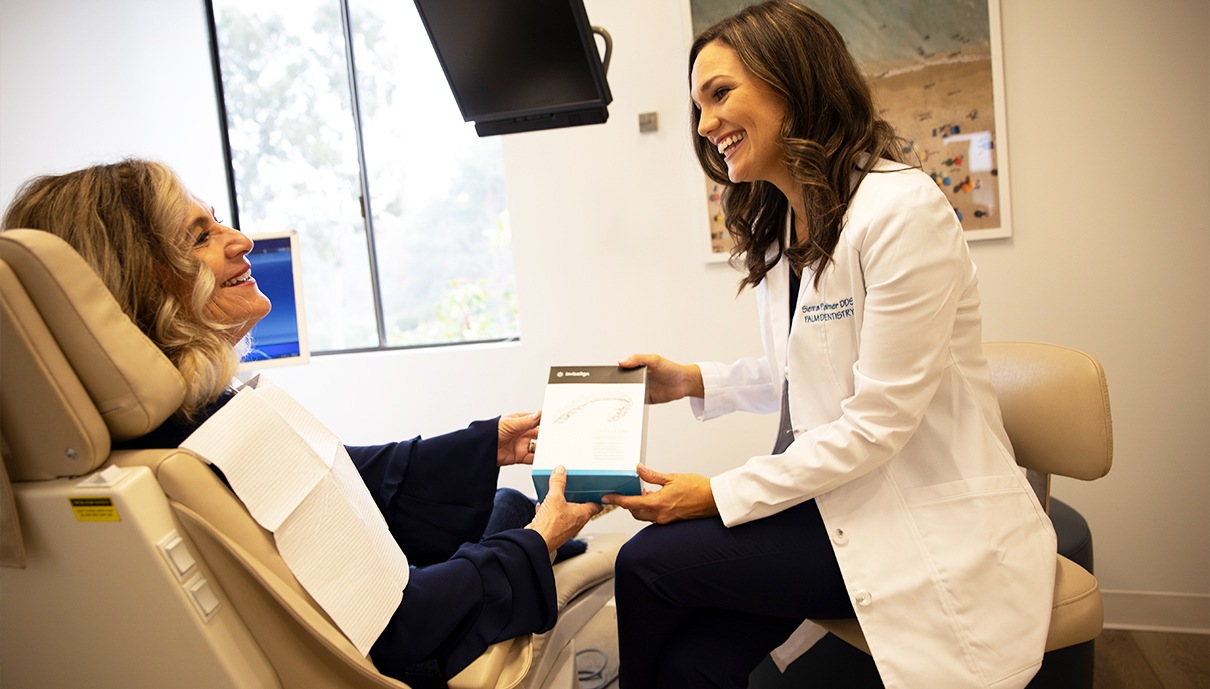 If you've always gone through life with misaligned or crooked teeth, large gaps between your teeth, or an uneven bite, it's worth noting that your orthodontic dental treatments can actually be quite helpful to both your smile's appearance and your oral health. At Palm Dentistry, we can explain the realignment process to you directly, simulate what your future smile could look like, and make sure your treatment goes as intended. To start your smile transformation, please give Dr. Palmer a call for Invisalign clear braces in Mission Viejo, CA!
Why Choose Palm Dentistry For Invisalign?
#1 Preferred Invisalign Provider
#2 See a Preview of Your Results Before Beginning Treatment
#3 Friendly, Caring, & Accommodating Dentist
How Invisalign Works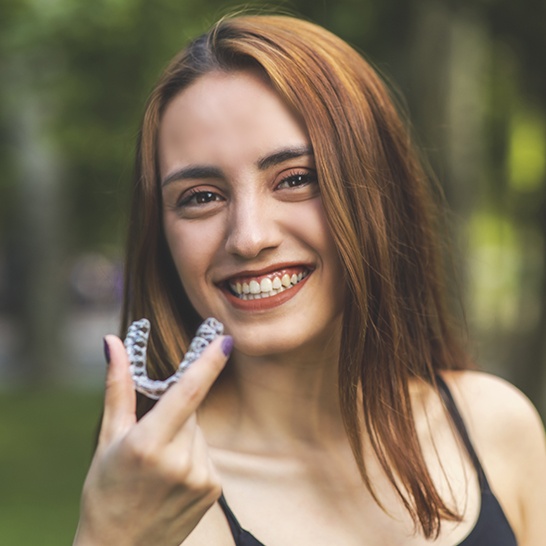 Invisalign uses a series of clear aligners that you'll wear over your teeth like a mouthguard. These clear aligners are designed to gently shift your teeth into straighter positions over a long period of time. To do so, you'll wear each set of aligners for about 22 hours a day. Then, you'll move on to the next pair in your series after wearing your aligners for about two weeks. Since they are easy to remove, you won't have to change your oral care habits or diet just to achieve a healthier and straighter smile.
Indications for Invisalign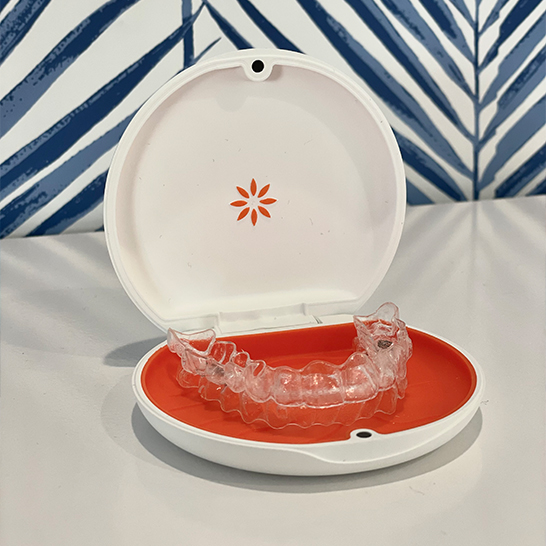 A wide variety of orthodontic issues can be corrected with Invisalign. While severe problems are still best addressed with traditional metal braces, Invisalign is ideal for fixing mild to moderate cases of the following common issues:
Crowded Teeth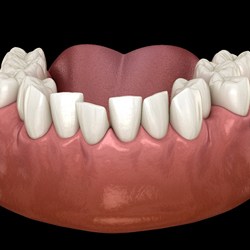 Teeth that are crowded, too close together, or overlapping can lead to serious oral health issues in the long run. Not only do they put you at a higher risk of problems like tooth decay and gum disease, but the excess wear can weaken your enamel and lead to chipped teeth.
Gaps Between Teeth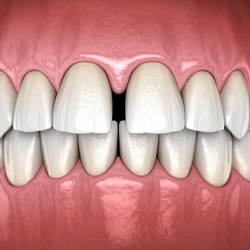 Gaps between your teeth, especially between your front two teeth, can make you feel self-conscious about your appearance. What's more, these spaces can collect food debris and plaque, which can lead to decay and infections if allowed to accumulate.
Bite Alignment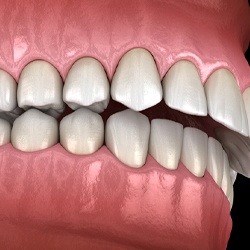 Bite problems like overbite, underbite, open bite, and crossbite can be addressed with a custom Invisalign treatment plan. Not only can these issues distract from your appearance, but left untreated they can cause serious jaw problems like bruxism, TMJ disorder, and lockjaw.
The Benefits of Invisalign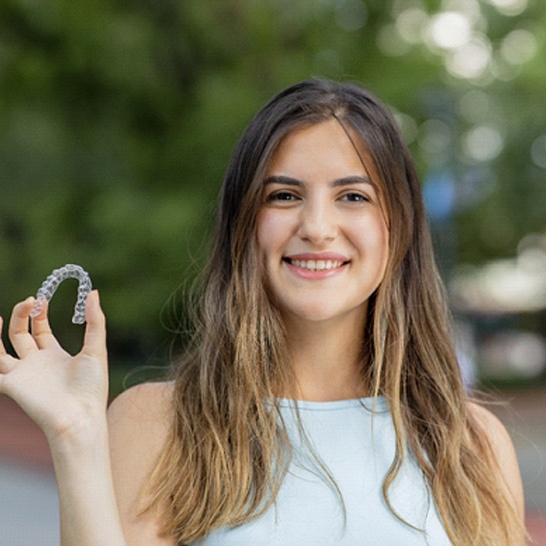 Virtually invisible appearance
No food restrictions
Removable for easy cleaning
Typically a shorter treatment timeline than metal braces
No sharp or poking metal wires and brackets
How Much Does Invisalign Cost?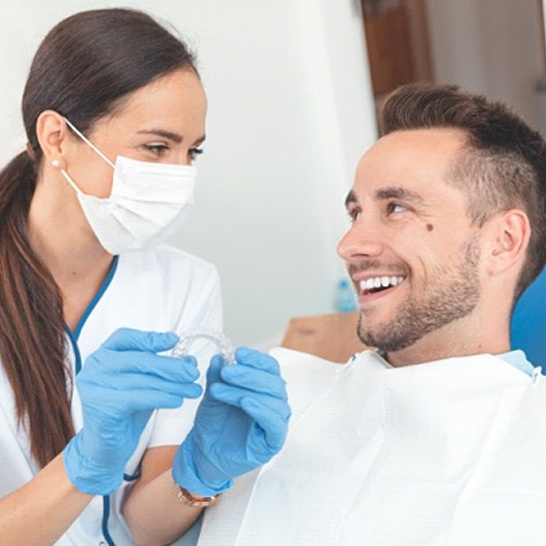 Just as no two smiles are exactly the same, no two Invisalign treatments will be exactly alike. Factors like your age, current oral health, and severity of your orthodontic problems will define the details of your treatment plan and influence how much your Invisalign costs in Mission Viejo. Additionally, how well you adhere to your daily 20-22 hour wear time will impact the final cost of your treatment. We'll be able to give you a custom estimate during your initial consultation and review your options for making your new smile as affordable as possible.
Invisalign FAQs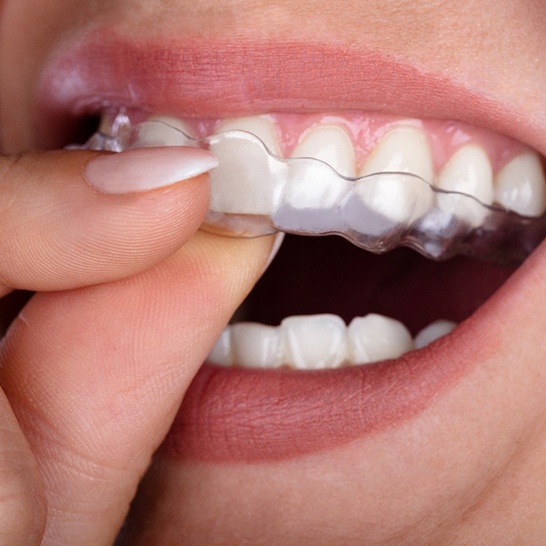 You've been wanting to straighten up your smile for a while, and after considering your options, you're leaning toward Invisalign in Mission Viejo. You recognize that it involves some different considerations than traditional braces, so before committing you still have a few questions. That's understandable, so we've compiled some of the questions most often asked by previous patients. If you are still searching for answers after reading through the info below, be sure to contact our team!
How Long Does Invisalign Take?
It depends. On average, it takes 12-18 months to finish treatment. However, every patient has unique smile circumstances, and several factors affect the amount of time it takes to achieve your desired results, such as the severity of your misalignment and your commitment to the treatment plan. People with mild orthodontic issues can expect to finish up in as soon as six months! If you have a more severe case of dental misalignment, you can expedite the process by visiting your cosmetic dentist in Mission Viejo regularly and diligently following treatment instructions.
Can You Eat with Invisalign?
The best part about Invisalign is that there are no dietary restrictions while you undergo treatment. Since the clear aligners are removable, all you must do is take them out before you eat. Otherwise, you risk damaging the aligners, causing cracks and stains. It also places unnecessary pressure on your teeth. That said, you should always take out your plastic trays and store them in a safe place before eating or drinking anything that's not water.
What Happens After Invisalign?
Once you've completed the last aligners in the series, you'll visit your dentist to verify the results. They will ensure your teeth are in the desired, straight position before briefing you on what maintenance for your newly aligned smile will look like. Post-treatment will begin with wearing a retainer. These are designed to be much more comfortable to wear than those in the past, and you'll usually get to choose between wire retainers and clear plastic ones that look similar to Invisalign. Based on your specific needs, your dentist will recommend how often you'll need to wear your retainer. Usually, you'll start wearing it full time before gradually decreasing to only wearing it at night.
What Does Invisalign Look Like?
Designed with transparent plastic, Invisalign clear aligners are visible when outside of the mouth, but incredibly hard to detect once worn. With proper maintenance, patients can keep their aligners clean, clear, and discreet. Unlike traditional braces that require brackets and wires, Invisalign's predictable clear aligners allow patients to achieve straight teeth without compromising their appearance. In some cases, patients may require attachments, buttons, or elastics that help during the alignment process. These items are not made of clear plastic and sometimes are more visible than the rest of the aligners.