Cosmetic Dentistry – Mission Viejo, CA
Helping You Achieve Your Dream Smile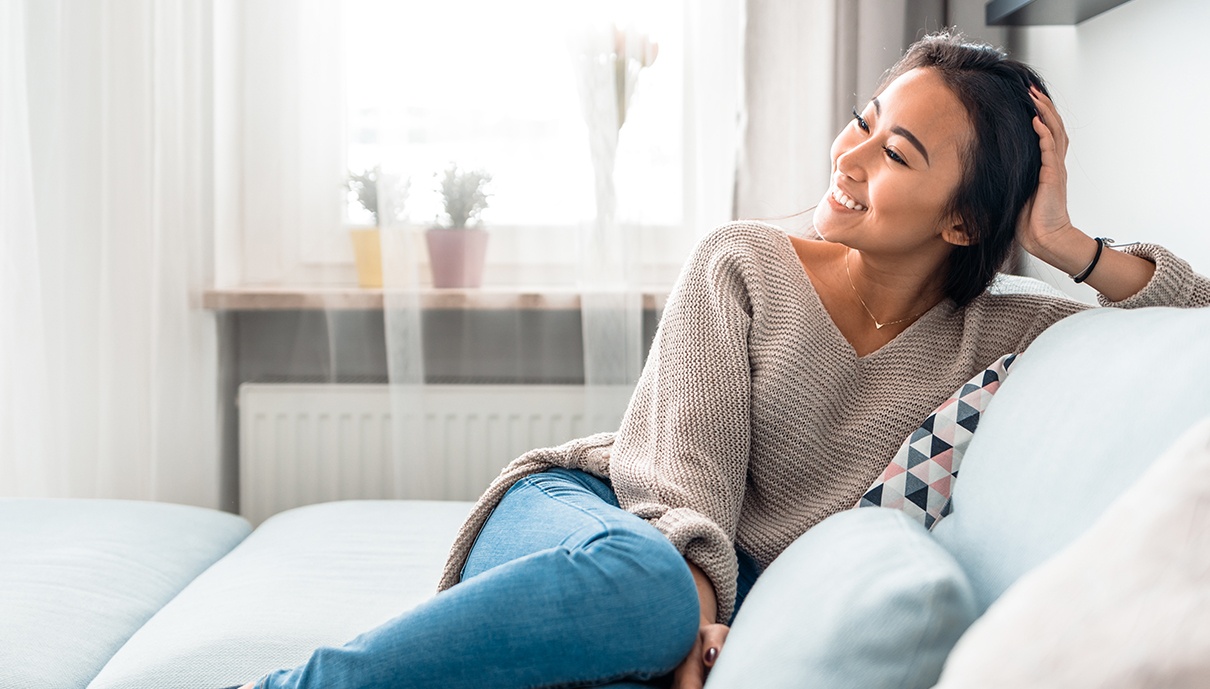 It's important to have good oral health, but you should be able to enjoy how your smile looks as well. Over time, your smile may develop many cosmetic imperfections, including stains, chips, cracks, and gaps. These issues do not have to be a fact of life. Palm Dentistry provides many solutions for cosmetic dentistry in Mission Viejo, CA all in one dental office, so you can both maintain a healthy smile and ensure it looks exactly the way you want it to!
Why Choose Palm Dentistry
for Cosmetic Dentistry?
In-Office and Take-Home Whitening Kits
Restorations Personalized via Digital Impressions
Custom-Shaded Veneers Match Your Teeth Exactly
Porcelain Veneers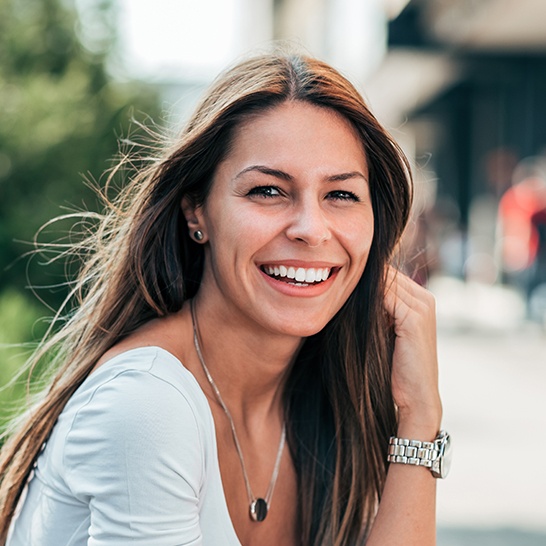 When you want to hide a series of cosmetic imperfections or simply transform your smile from top-to-bottom, porcelain veneers are considered one of the most effective ways to do so. Each veneer is made from high-quality dental ceramic and designed to be ultra-thin. This allows them to be bonded directly to slightly modified teeth and remain flush along the way. To hide permanent stains, chips, gaps, cracks, and just about any other imperfection, consider porcelain veneers for your future smile makeover!
Lumineers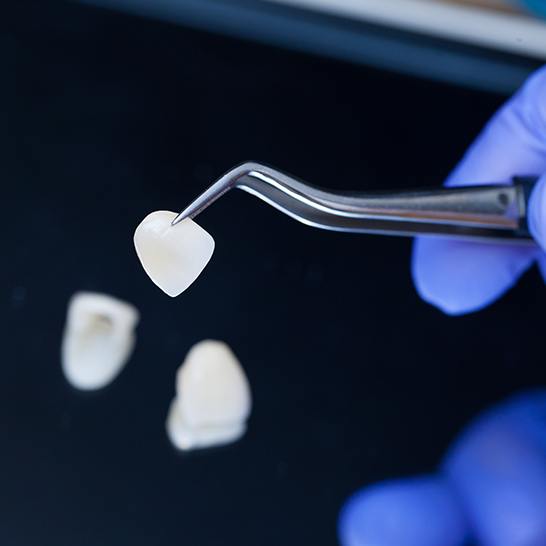 Similar to porcelain veneers, Lumineers are an even thinner solution that accomplishes the same goal. Each veneer is about 0.3 millimeters in thickness, while traditional veneers are about 0.5 millimeters thick. This makes a big difference because it prevents the need to remove existing enamel just to place the restorations. In the event that you want to go back to your original smile, Lumineers allow for that decision, whereas traditional veneers involve permanent alteration of your teeth.
Metal-Free Dental Crowns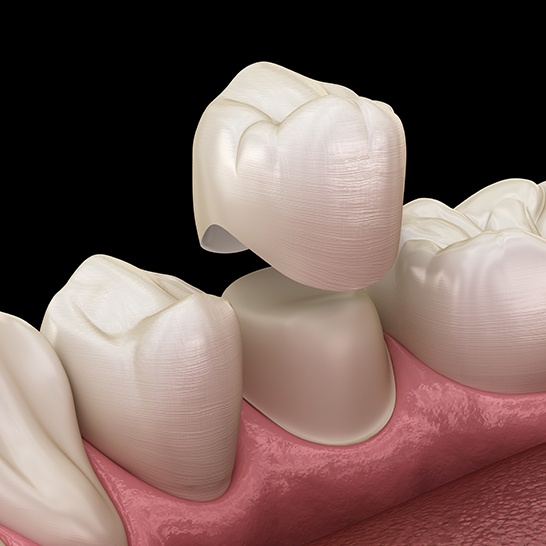 When you need to restore teeth damaged by decay or injury, but you don't want to use metal crowns to get it done, ceramic crowns are the best way to go. Of course, you can also use ceramic crowns to hide imperfections that other treatments cannot resolve. For example, if teeth are misshapen or several stained, a metal-free crown can actually be more effective than a round of teeth whitening or cosmetic bonding.
Cosmetic Dental Bonding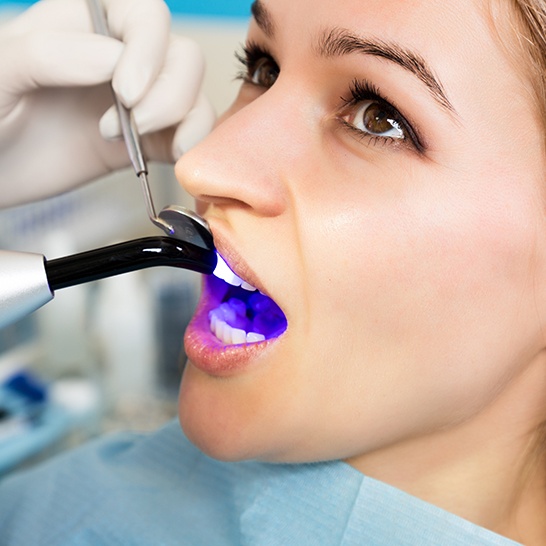 Sometimes even the smallest cracks in your smile can be the most noticeable. Even if they aren't a risk to your oral health, they can be distracting and negatively affect your confidence. Cosmetic bonding works to cover cosmetic imperfections quickly and effectively in teeth, whether they be stains, chips, cracks, and even minor gaps. In just one appointment, we can color-match composite resin to your existing teeth, apply it directly to your teeth, and harden it using a special curing light.
Learn More About Cosmetic Dental Bonding
ZOOM!® Teeth Whitening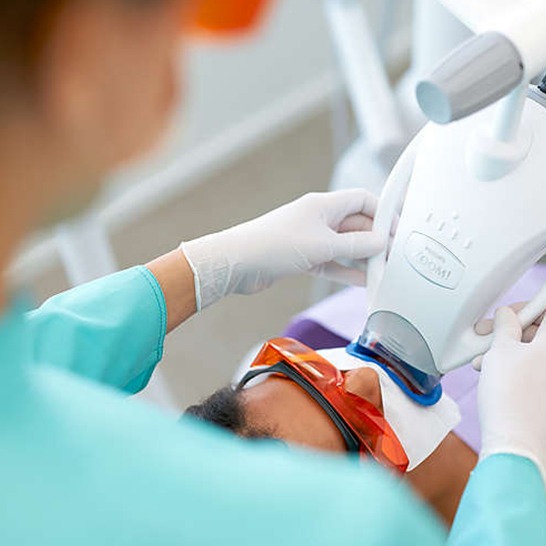 Stains can develop on teeth from the foods we eat, but they can also appear from other underlying issues you may not have considered before. No matter what the cause of your smile's stains, a round or two of professional teeth whitening can make all the difference. Whether you want to complete treatment in our comfortable dental office or do so at home with our take-home kits, there's an option out there for you.
Learn More About ZOOM! Teeth Whitening
Gum Recontouring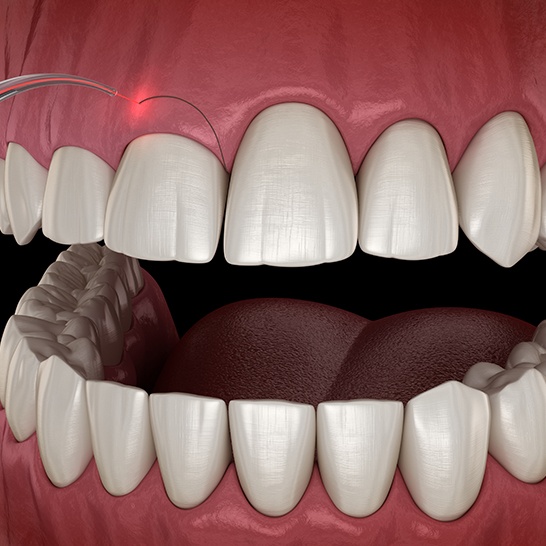 In some cases, your teeth may not need cosmetic treatment at all. Instead, your gums may appear larger or fuller than normal, causing your teeth to look more covered up. Some patients note this makes their smile "gummy." With gum recontouring, we can easily reshape your gum tissue and make your smile larger and more visible. We'll make sure to remain as conservative as possible when reshaping your gum tissue.
Learn More About Gum Contouring
Understanding the Cost of Cosmetic Dentistry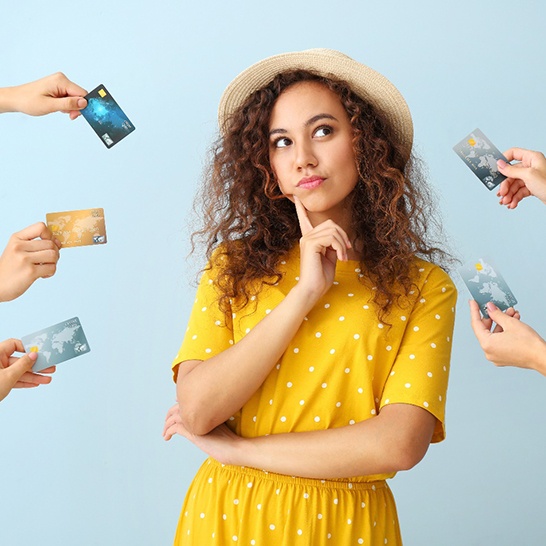 Cosmetic dental treatments are rarely covered by insurance, so it's understandable that you are concerned about the cost of your treatment. Because everyone's smile goals are different, we won't be able to determine the exact cost of your treatment until you see us for a consultation. We have a variety of cosmetic solutions and are happy to help you navigate the cost. In the meantime, here are some things for you to keep in mind.
What Cosmetic Dental Service is Right for Me?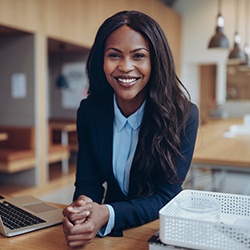 Patients are usually trying to achieve a smile that is straighter, whiter, or shaped differently. Here's how some of your options can help:
Dental Bonding – This minimally invasive procedure can be completed in just a single visit to the dental office, and it is one of the most affordable cosmetic treatments out there. Cosmetic bonding can correct many minor imperfections, like chips and stains. Depending on how well you maintain the results, dental bonding can last anywhere from 3 to 10 years.
Teeth Whitening – Teeth can become discolored in a variety of different ways, but with professional teeth whitening, you can see noticeable results in a short period of time. This is another more affordable option, and results last anywhere from a couple of months to a few years depending on how well you care for them.
Veneers/Lumineers – Veneers and Lumineers aren't the cheapest options out there, but they are an easy way to transform numerous aspects of your smile at the same time. This includes the color, shape, and minor alignment issues.
Invisalign – If you have alignment issues, Invisalign is a great solution. This treatment typically costs several thousands of dollars, but it is an effective way to correct crooked teeth and bite problems.
Cosmetic Dentistry Can Be an Investment Worth Making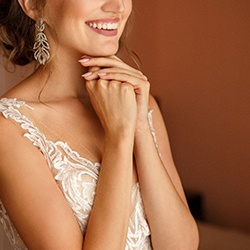 Cosmetic dental treatment may feel like quite a commitment, and it is! However, it is an investment that will pay off over time. If you are feeling self-conscious about your smile, making changes with the help of your dentist can lead to significant improvement in your confidence and self-esteem. Ultimately, this can mean better relationships, a more vibrant social life, and a higher overall quality of life. To determine whether or not cosmetic dentistry is a worthwhile investment, it's important to take a look at the entire picture.
How to Make Cosmetic Dentistry Affordable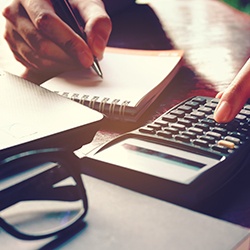 Cosmetic dental treatments are rarely covered by dental insurance. However, this doesn't necessarily mean that you will be left completely in the dust. We work with CareCredit – a third-party financing company that can split the cost of your treatment into manageable monthly installments with little to no interest. To learn more about your financial options, talk to one of our friendly team members.
To find out exactly how much you can expect your treatment to cost, give us a call to schedule a consultation. We're eager to help you achieve the smile of your dreams!
Cosmetic Dentistry FAQs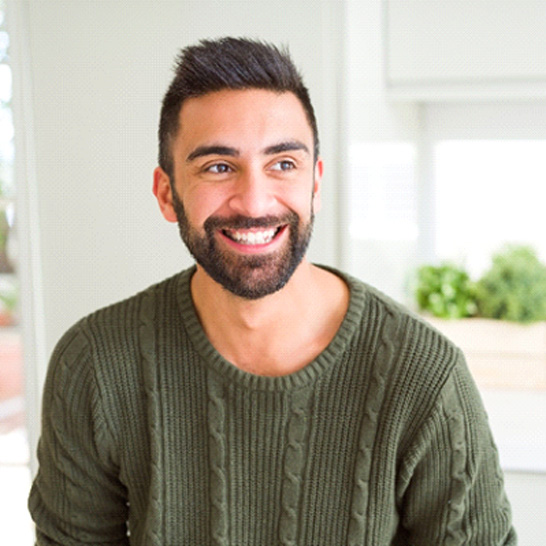 Are you thinking about investing in cosmetic dentistry in Mission Viejo, but aren't entirely convinced it's right for you? Below, our team has collected some of the most common questions we receive about these services along with our answers for your convenience. If you feel inspired to schedule a consultation after reading them, please give us a call !
Is cosmetic dentistry expensive?
Many people are under the impression that all cosmetic dentistry is expensive, regardless of the treatment that you choose. However, that's not necessarily the case. At Palm Dentistry, we offer several cost-effective treatment options for patients who want to improve the appearance of their smile without blowing their monthly budget out of the water, including cosmetic bonding and Zoom! teeth whitening. These treatments provide long-lasting, but not permanent results, making them more budget-friendly options.
Will my insurance cover the cost of cosmetic dentistry?
Unfortunately, it's not common that dental insurance companies cover the cost of cosmetic dentistry. However, our team offers other ways to make procedures affordable, including low monthly financing at little-to-no interest through CareCredit . All you have to do to find out whether you qualify is fill out a short application.
How long does cosmetic dentistry last?
The length of your cosmetic results depends on what type of treatment you receive. Here are some lifespans of the services that we offer at Palm Dentistry if your smile is well-maintained:
Porcelain veneers can last between 20 and 25 years.
Lumineers can last between 10 and 15 years.
Metal-free dental crowns last an average of 10 years.
Cosmetic bonding lasts between five and seven years.
Zoom! teeth whitening results last about a year.
Gum recontouring lasts a lifetime.
Your cosmetic dentist in Mission Viejo will discuss maintenance with you after your treatment to ensure that you'll be able to enjoy your results for as long as possible.
How do I choose a good cosmetic dentist?
Cosmetic dentistry isn't actually recognized as a dental specialty, so any dentist can say that they're a cosmetic dentist. However, the best way to tell a skilled and passionate cosmetic dentist apart from someone just trying to get cosmetic cases is looking at their reviews as well as asking them a bit about themselves! It's also a good idea to look at whether their office is up-to-date with the latest technology , and since cosmetic services are rarely covered by insurance, see if they offer additional financing.