April 9, 2023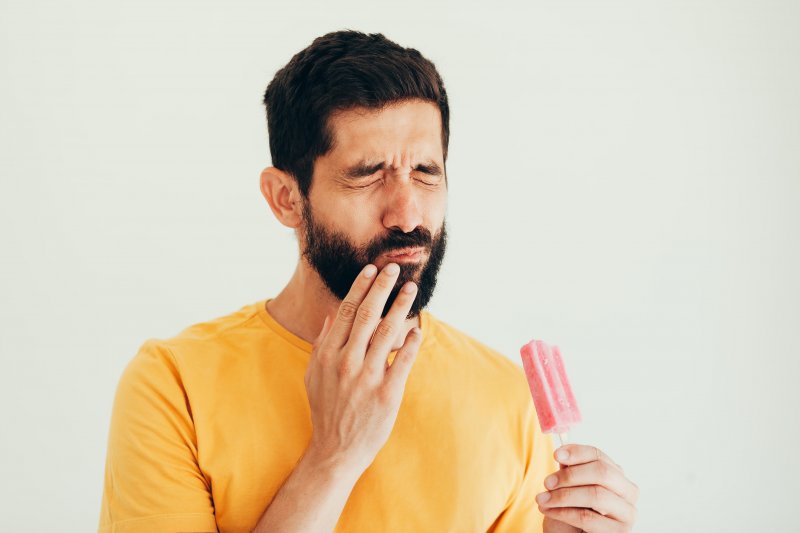 Teeth whitening is one of the simplest cosmetic dental procedures, capable of giving people a smile much whiter than they did before. The procedure is fast, easy, and painless, which draws a lot of people to the treatment.
However, you might have heard that teeth whitening can produce a little bit of sensitivity in the days immediately following the procedure. If you want to know why that may be, and what you can do to make yourself more comfortable, here's some information that you might be interested to hear.
Does Teeth Whitening Cause Sensitivity?
As a general rule, it's possible for teeth whitening to create sensitivity. This is due to the nature of the hydrogen peroxide that's often the primary ingredient in teeth whitening solutions.
Hydrogen peroxide breaks down stains by penetrating deep into the enamel, so much so that it could potentially reach the deeper layers of the tooth. This can agitate the nerves in the teeth, causing some sensitivity for a few days after treatment is over.
The Benefits of Professional Whitening
While this is a hazard for any kind of whitening treatment, it's worth noting that professional teeth whitening rarely results in this kind of sensitivity. That's because a dentist is well aware that hydrogen peroxide can agitate the teeth, and will adjust the concentration of the bleaching solution to make you as comfortable as possible.
Dentists will also be able to effectively protect your lips and gums, so the bleaching solution won't irritate you that way either.
Dealing With Sensitivity
If you do wind up dealing with a little bit of sensitivity, don't worry—that's completely normal, and you should feel better within a week or two. Until then, there are steps you can take to ease your discomfort.
Over-the-counter pain relief can be enormously helpful. This can be simple ibuprofen, but there are also specialized ointments designed specifically for the teeth that may be more effective. If you are getting these treatments in a dental office, your dentist has desensitizing agents that can help.
If that isn't enough, you might just want to avoid excessively hot or cold foods that can exacerbate sensitivity. Keep this in mind, and you'll have a beautiful, painless smile in no time!
About the Author
Dr. Sienna Palmer has loved helping people smile for as long as she can remember, and as a dentist, she feels enormously grateful to be able to do that every day for her patients. Dr. Palmer received her dental degree from the Ostrow School of Dentistry at the University of Southern California, and since then she has remained committed to continuing her education. She is a proud member of the American Academy of Cosmetic Dentistry and the California Dental Association.
If you have any questions about tooth sensitivity, we can be reached at our website or by phone at (949) 365-0951.
Comments Off

on Can Teeth Whitening Give You Tooth Sensitivity?
No Comments
No comments yet.
RSS feed for comments on this post.
Sorry, the comment form is closed at this time.