June 17, 2021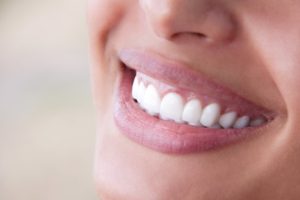 Veneers are one of the most popular cosmetic dental treatments available, and it's easy to see why! These ultra-thin shells of porcelain offer a comprehensive and long-lasting way to transform any number of flaws into a beautiful smile! However, once you get the smile of your dreams, you have to continue to take care of it. Read on as we cover some of the most important tips for maintaining your veneers in order to prevent getting cavities!
Can Veneers Get Cavities?
The answer is no, veneers themselves can't get cavities! However, that doesn't mean you don't have to worry about tooth decay ever again. Remember, veneers only cover the front-facing surface of your teeth. The backside is left uncovered, and therefore unprotected. While the plaque, bacteria, and acids that form cavities won't be able to break down your veneers, they can still easily burn away the enamel on the back of your teeth and cause decay.
So teeth that have veneers can still get cavities. Unfortunately, if tooth decay forms around or underneath a veneer, treating it may prove difficult. Your dentist may need to remove the veneer in order to fill the cavity and then fabricate a new one for you.
Maintaining Veneers & Preventing Cavities
Thankfully, it should be relatively easy to keep cavities at bay while you have veneers. In fact, maintaining your veneers doesn't require any special products or techniques. You simply have to be dedicated to keeping your mouth healthy, which includes:
Brushing and flossing daily: It's absolutely essential to remove cavity-causing particles from around your veneers, so brush for two minutes twice a day and floss daily.
Pick the right toothpaste: Abrasive toothpastes (like whitening toothpastes) can scratch and weaken your veneers. Instead, consider using a gel formula toothpaste with the ADA Seal of Approval, which will remove plaque and bacteria just as effectively without the damage.
Use fluoridated products: In addition to fluoridated toothpaste, try rinsing with a fluoridated mouthwash regularly. Fluoride is incredibly effective at strengthening teeth and preventing decay.
Visit your dentist regularly: If you haven't been already, make sure you're visiting your dentist twice a year for routine checkups and cleanings. Professional cleanings are an excellent way to stop cavities from forming in the first place, while regular checkups can help spot cavities as early as possible.
Veneers are an investment in your smile and your confidence, so make sure you take good care of them! Not only will good dental habits help you get the most out of your veneers, but they'll help keep your smile just as healthy as it looks!
About the Practice
The talented team of Palm Dentistry brings together technical skill, clinical excellence, and personalized treatments to offer unmatched dental care in Mission Viejo. They've outfitted their practice with the latest dental technology and offer a wide variety of treatments to ensure every patient can achieve the smile of their dreams. Whether you're interested in veneers or it's time to schedule your next checkup, they're happy to help! They can be reached via their website or at (949) 365-0951.
Comments Off

on Can I Still Get Cavities If I Have Veneers?
No Comments
No comments yet.
RSS feed for comments on this post.
Sorry, the comment form is closed at this time.