April 12, 2021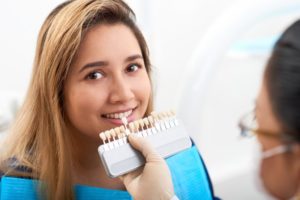 Have you been wanting to fix the flaws in your teeth, but you're not sure exactly how? Veneers are a great way to erase dental imperfections and give you a smile you can feel proud of. However, getting veneers is not a decision to be made lightly. Before committing to veneers, it's important to understand a few things about your new smile. Here are seven facts about veneers that you should know first.
1. Veneers Can Fix Multiple Dental Problems at Once
Because veneers cover the entire visible potion of your tooth, virtually all of that tooth's cosmetic flaws will disappear. Whether you have a small chip in a single tooth, several noticeably stained teeth, or multiple gaps throughout your smile, veneers are versatile enough to work in most situations.
2. You Don't Need to Get Veneers on All of Your Teeth
Most dentists recommend getting an even number of veneers to ensure that your smile is symmetrical. However, if you only have one tooth whose appearance makes you self-conscious, it's perfectly fine to only receive a veneer on a single tooth.
3. Veneers Are Incredibly Lifelike
Dental porcelain comes in a variety of colors. It also resembles tooth enamel very closely. As a result, your veneers will blend in seamlessly with the rest of your smile. Once they're in place, other people shouldn't even be able to notice that you had dental work done!
4. Your Dentist Will Not Fully Shave Down Your Teeth
Maybe you've heard that in order to place veneers, your dentist needs to alter some of your tooth structure. The good news is that the amount of enamel removed is minimal; it shouldn't be thicker than a contact lens.
5. Veneers Are Sort of Permanent
Tooth enamel does not grow back after it has been removed. Therefore, the teeth that receive veneers will always need some type of cover for protection. You'll need to replace your veneers – either with more veneers or dental crowns – every 10 to 20 years on average.
6. You'll Need to Care for Your Investment
Veneers can last for more than a decade, but only if you take good care of them. Make sure to brush, floss, and visit your dentist for checkups regularly to keep the teeth under the veneers healthy.
7. Veneers Aren't Right for Everyone
While veneers are a good choice for many people, they may not be ideal for patients with severely crooked teeth or thin enamel. Also, if you have oral health conditions like gum disease or cavities, those will need to be addressed before your dentist can focus on your smile's appearance.
It's always important to be 100% sure about your decision before moving forward with any dental treatment. If you have any further questions about veneers, feel free to contact your dentist – their team will be happy to help!
About the Practice
At Palm Dentistry in Mission Viejo, CA, our dentists strive to help each patient feel right at home while helping them achieve healthy, confident smiles. Dr. Phyllis Schaub has almost 40 years of experience in the dental field, and Dr. Sienna Palmer is working toward a fellowship with the Academy of General Dentistry. They'll gladly answer any questions you may have about veneers. Visit their website or call (949)-365-0951 to learn more.
Comments Off

on 7 Things You Should Know Before Getting Veneers
No Comments
No comments yet.
RSS feed for comments on this post.
Sorry, the comment form is closed at this time.